From Care Assistant to Clinical Services Manager: My journey in the care sector
After finishing his master's degree in Adult Nursing, Sandeep joined the team at Field House Care Home as a Care Assistant. Since then, he's obtained his NMC pin, worked as a Registered Nurse and has now worked as a Clinical Services Manager for the past 4 years.
Talk us through your career journey.
I came to the UK in 2013 to complete my master's degree in Adult Nursing. I worked part time in various settings to support my studies, and then once I'd finished the course, I started looking for a permanent role here in the UK. I saw a role advertised at Field House Care Home on Indeed and decided to apply. At the time of applying, I was in the process of obtaining my NMC pin so that I could practise as a Nurse in the UK. At my interview, the Home Manager, April, talked to me about working as a Care Assistant whilst I was going through the NMC process. It seemed like a great idea to get started in the home and get to know the residents, and the team. I officially joined the team at Field House in July 2015 as a Care Assistant.
As part of the process of getting my NMC pin, I needed to complete an adaptation programme with a mentor as my original degree was obtained outside the UK. April was my mentor during this process and gave me opportunities to work alongside the nursing team to develop my skills whilst studying.
After completing the NMC process, I moved into a Registered Nurse role in April 2016. After I'd worked as a Nurse for a couple of months, the Clinical Services Manager role at the home became available and April suggested that I put in an application. I was offered the position on an interim basis and started working as the 'acting' Clinical Services Manager in August 2016. Everything went well and 6 months later I was officially offered the position, and I've been working in that role ever since.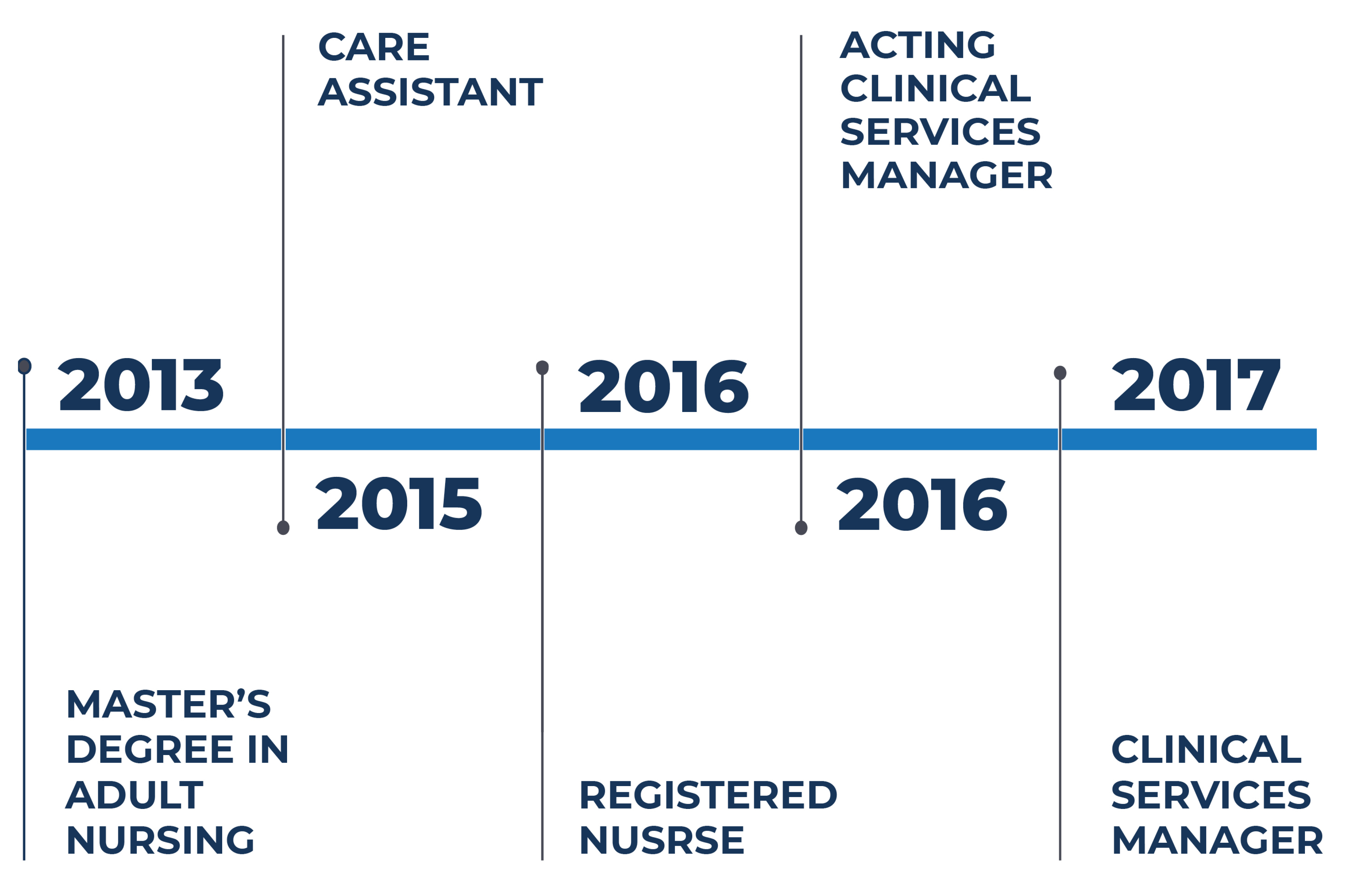 What made you originally go into care?
In hospitals you're working in an acute setting, so patients come and go, and you don't get the continuity of care that you do in a care home setting. In care, you get to know the residents, and as their needs change, the care you provide changes so it's always different and there's always something new to learn.
What do you think about the support with CPD, training and development and that's offered at Bupa?
It's brilliant. April has really supported me to develop, not just professionally, but clinically as well. I've received a lot of training and I've had the opportunity to go and train externally as well. I've completed training with The Hospice of St Francis, the HCPA and The Peace Hospice. I've done various courses such as Advance Safeguarding, End of Life Care, Palliative Care – the list goes on! All these opportunities have really supported my progression in the sector.
We generally hear a lot of misconceptions about working as a nurse in care home. Frequent ones are that you lose your clinical skills, nurses in care aren't aren't as skilled and there's no progression in care – what are your thoughts on these?
Who told you these? (Sandeep laughs) I don't agree with any of them. Are there some clinical tasks that you do in a hospital that you don't do in every care home? Yes. But it's not as many as people think. There are also skills that you learn about in care that you wouldn't in a hospital setting. You still have to keep up your clinical skills, you don't just lose them. There's Catheterisation, wound management, subcutaneous injections – the list goes on! The perception that some of us are more skilled than others just because of the setting we work in is unfair.
As for no progression – I'm proof that this isn't the case! The progression route in care is more management based but that doesn't mean you lose your clinical skills. As a Clinical Services Manager, I'm not just responsible for managing the team. I'm responsible for the clinical care of all our residents and I also specialise in medication and palliative care. For me personally, progressing in the care sector gives me the best of both worlds. I get to progress professionally and clinically.
Do you have a favourite memory from your time in care?
When I came back to work after getting married in India, the team had organised a party at the care home for me as a surprise. All the residents and my team were there to celebrate, and we had such a good time. I was really touched that everyone made the effort to celebrate a milestone in my life.
What's your favourite thing about working in care?
The residents. Hearing about their lives, the things they've done and listening to the stories they've got to tell is just amazing. We have residents living at the home who have been here since I started. The satisfaction that I get seeing them every day and knowing that I've played a part in making their lives better is indescribable. There's nothing quite like that. At Field House, we're a really close team, it's like having a second home and family. We laugh together, at times we fight, but above all we really support each other, and I wouldn't want to work anywhere else.
Has Sandeep inspired you to give working in care a try? Join our nursing talent community to find out more!
Join now